Stefano has sent me news of his new future and latest doings.
As we all know, Stefano has his busy fingers in many pies.
He explains all that below.
So he will be absent from his restaurant -
but his spirit will still be felt, I'm sure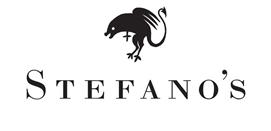 What's happening in my part of the world and what I am up to.



Looking back after 20 years in the kitchen I can see that it is high time for me to make room for new blood and new ideas. Of course, there are some of you out there who say they would prefer Stefano's of old - the classic Italian dishes of the comfort variety that fit so well in a country town-local ingredient-narrative at a reasonable price. But there have been plenty of you lamenting that Stefano's was not keeping up with the times, offering creative dishes with local ingredients that somehow transcend the usual classical gastronomic categories. So I have taken the plunge and appointed Jim McDougall to take Stefano's restaurant in a different direction and to shake me from my habits. You can argue that somehow I should clone myself to keep the tradition going, but I do not see the purpose in cloning people and expect somehow that they be loyal to my idea of how things should be. And boy, taking the plunge I have felt that double up-draught in my shorts as I jumped from branch to pool, as Les Murray would say.

Jim McDougall started his cooking career in the Stefano's group years ago and then went on to cook for and with Shannon Bennett of Vue de Monde fame. He is, like me, passionate about our region and all its culinary possibilities. We are very, very fortunate to have him with us not only because he is a bloody good cook, but also for his generosity of spirit and esprit de corp (he looks grumpy most of the time, but do not let that fool you!)

Jim has been fantastic. He has enabled me to take and enjoy a sabbatical leaving the restaurant in his hands and those of the rest of the capable team. During my absence The Age Epicure was mightily impressed giving the restaurant a score of 17 out of 20 and that surely counts for something. The Age said that I could continue my skiing holidays undisturbed, as the restaurant was doing fine without me.

Jim and I have a book in the pipeline called Nuovo Mondo, or The New World, showing how we can blend ideas and also keep some of the old classics in the equation.

And whilst I was overseas (not skiing, by the way) I made another little, quirky Stefano's Cooking Paradiso for Lifestyle Food to go to air on August 12. It will seem rather strange as I shift from the summer gardens of Mildura to the depth of winter (minus 7 degrees) in northern Italy in the same episode, but then I have never adhered to an exact script! And if you think I was having a good time doing it, please think again: look at the snot freezing under my nose.

Stefano's Preserves is now in the capable hands of Ryan Casey whose great passion for fresh, simple ingredients gets transformed into the delicious preserves and chutneys our customers have come to love. I met Ryan in Broken Hill some years ago and got him to come to Mildura. He spent a couple of years with Lyndall on the preserves and now he is ready to take responsibility in that area. Lyndall is taking time off and a deserved rest. We wish her the best.

At the helm of Stefano's Café Bakery are my brother in law and sister in law, Mario and Maria. They produce good coffee, breads and cakes and a good breakfast as usual. Paul Clarke, an artisan baker, is still with the team, ensuring a high degree of continuity. The bustling feeling in the cafe, the revolving shows in Gallery 25, the new products that come out from time to time make me excited. I had a croissant there recently which was on par if not better than the same in Paris: buttery, soft inside and flaky outside, pure bliss. And here, what's more, not in a capital city. These are little victories one must savour.

As you may have noticed I am more and more involved in the manufacturing side of the Mildura Brewery which, on top of making good beer, employs several local lads. Times are tough out here and keeping jobs is a responsibility I take very seriously. And remember that when people have had their stint with us they move on to other microbreweries: we already have four ex Mildurians in important positions in Western Australia, Queensland, Victoria and South Australia. That gives me great satisfaction indeed.

Our expansion through Melbourne, Dan Murphy and First Choice means that people like our beer efforts and this is very important to me as well.

Above all, I have to keep some energy for other interests, mostly around the arts here in Mildura. So many good people are involved and work hard to keep our minds engaged and alive despite all the troubles and cynicism prevailing nowadays……

For me, there is a lot to be excited about, so whether you come to Mildura to enjoy what we have to offer or you sample our products somewhere else, we hope you find what we are doing exciting as well.